Benefit + Payroll Reconciliation Report
Stop the Runaway Train Before it Leaves the Station
Nobody likes surprises, especially when it comes to money.
Protect your company and your employees by ensuring that benefit premiums are deducted correctly every pay period.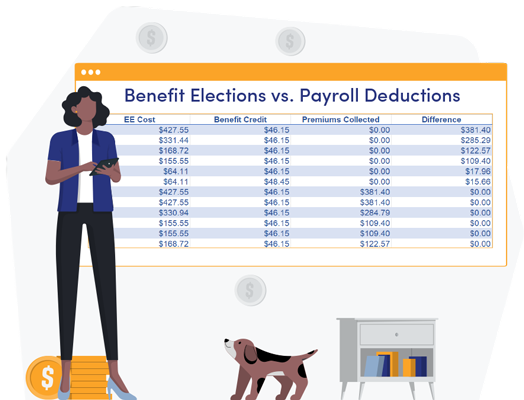 How does the report work?
The report works by comparing your enrollment data – including wellness credits and tobacco surcharges – and comparing it against deductions from your workers' paychecks. Any discrepancy between expected premiums and actual deductions will show up as the difference.
Is a worker on leave? No problem. Quickly see who may be on leave and how much they have in arrears.
This report can be run this for any timeframe – current, historic, or next pay period.
No More Manual Reports
Gone are the days of pulling benefit election reports, chasing down deduction data, and doing manual V-Lookups to compare your data sets.
Avoid the Awkward Conversation
Nobody wants to hear that there has been an error with their paycheck for the past 6 months. Nor will directors have to decide who will cover the cost of missed premiums.
Kick Off Your New Plan Year the Right Way
After completing Open Enrollment, run this report at the beginning of every new plan year to ensure that new plans and premiums are being deducted appropriately.
Catch Configuration Issues Early
Wellness credits and tobacco surcharges can add a layer of complexity. This report can act as the final checksum in your benefit and payroll configuration testing.