Workday Custom Report Library
Everybody loves a good report – and we've got them.
Whether you're an experienced report writer or at the beginning of your Workday journey, custom reporting is a vital skill to build.

For each Workday module, our Experts have compiled a list of helpful reports to assist with common tasks.

This includes both Workday-Delivered Reports and Downloadable Custom Report Definitions.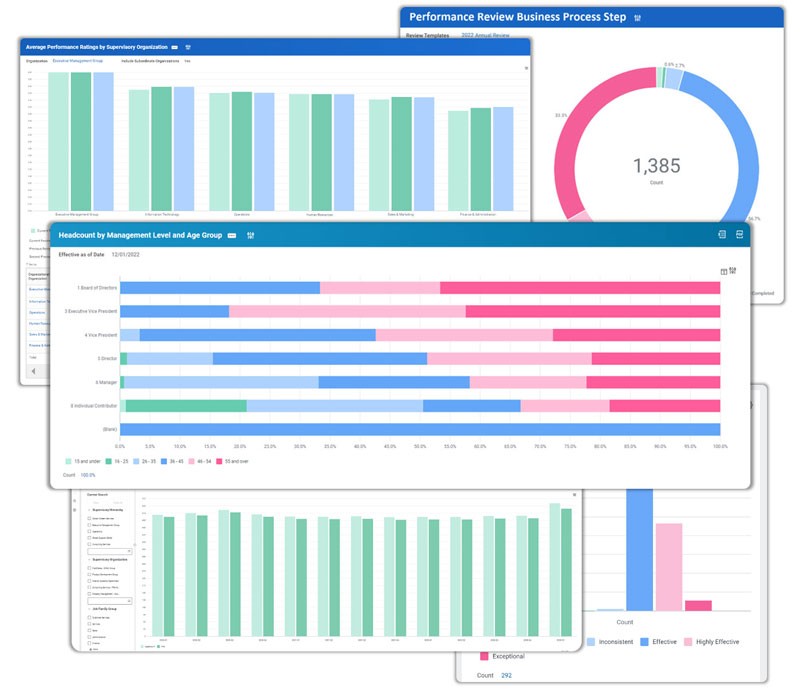 Reporting Library
We have custom report definitions available for the following modules. Complete the form to receive all reports by email.
Interested in Workday-delivered reports as well?
Click a module below to learn more!
Download All Custom Report Definitions
Additional Reporting Solutions
Our Reporting library extends into packaged solutions that
can be customized to fit your organization's unique business needs.
Diversity Dashboards
Expanding on Workday VIBE's platform, Commit's DEI Dashboards provide 36 base reports, with plenty of room to grow as your needs evolve.
These reports can easily be pivoted for use as People Metrics dashboards for Executives, Managers, HR, and more.
Avoid future headaches and ensure your employees' benefit deductions are accurate from the onset.
Our solution works natively within Workday to make sure the numbers line up – no VLOOKUPs required.
OE is the biggest task Benefits teams will undertake each year. Workday's Status Report is limited.
Workday's OE Status Report is limited – Our suite of custom reports allow you to track elections in real time!
You have Workday questions.
We have Workday answers.
How can we begin elevating your Workday experience?