Workday has allowed admins and managers to Request One-Time Payments on behalf of Workers for a long time, but there was never a great way to allow Workers to request a One-Time payment for themselves.
In the past, some customers have resorted to complicated options to allow employees to self-request One-Time payments – such as utilizing the Request Framework or sidestepping Workday altogether.
After seeing many customers request a more streamlined solution, Workday has provided the new Self-Service for One-Time Payments functionality as part of the 2022 R2 release.
Download our Checklist for Compensation Reviews
A link to the checklist will appear here.
How do One-Time Payments as Self-Service work?
The new Self-Service functionality for One-Time Payments will allow you to give Workers the opportunity to request a One-Time Payment for themselves, using the task Request One-Time Payment for Self.
While requesting a payment, Workers will be able to select a specific One-Time Payment Plan, amount, and justification for the payment.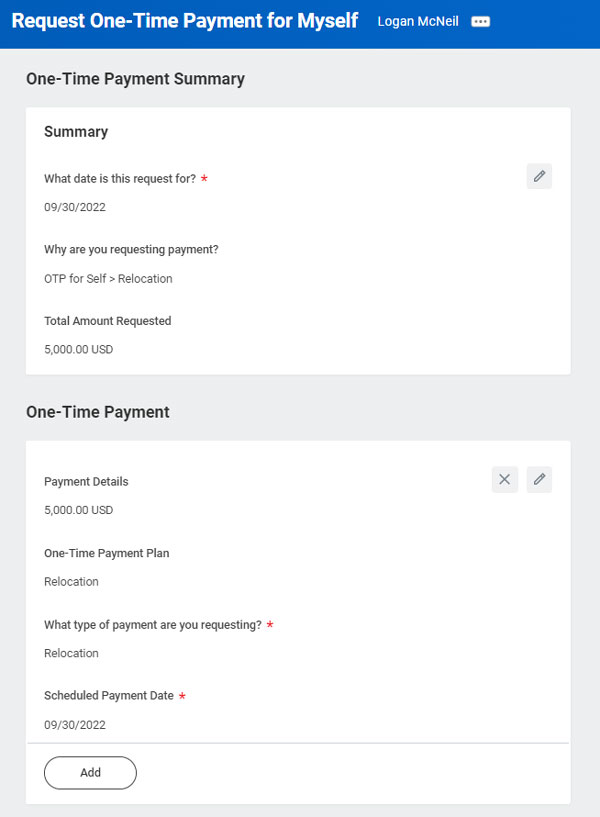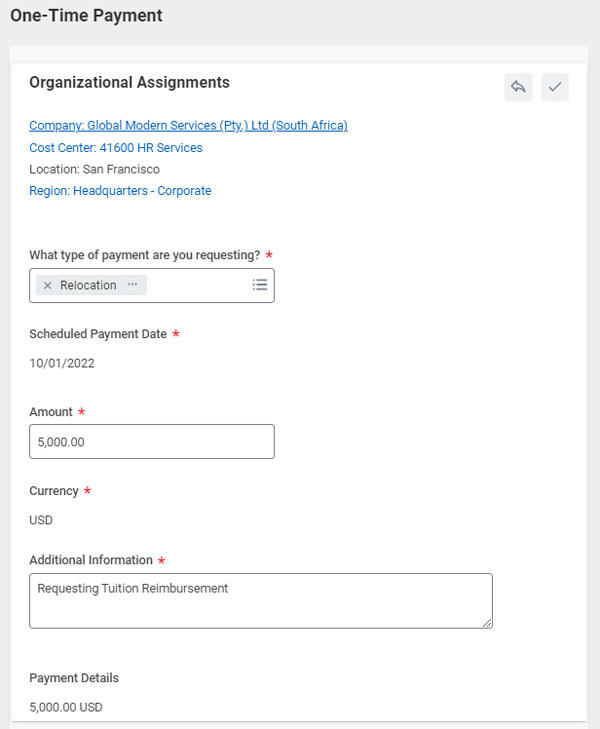 With this update, Workday also provides a brand new Request One-Time Payment for Self Business Process. Specific to the Self-Service process, you can set up your own Business Process Reasons, validations, and custom approval process. You can completely customize the Self-Service process without impacting the existing Request One-Time Payment process already in use.
This update also provides the flexibility to determine which existing One-Time Payment Plans you would like to be selectable for an employee requesting a OTP. You can determine which OTP Plans a worker can request for themselves and prevent Workers from selecting certain existing plans.
Why is this important?
Before this update, customers would resort to either having their workers request these One-Time Payments outside of Workday or using the Request Framework to allow workers to initiate a request. While both of these options eventually got the job done, there was a disconnect between the request process and the actual payment getting processed in Workday. Both options required another user to manually request the One-Time Payment in Workday after the request was completed separately.
This update will reduce the need for manual intervention, by allowing a worker to request a One-Time Payment for themselves in Workday. Once the process completes, the OTP will flow directly to Payroll, removing the need for another user to manually enter the OTP after it has been approved outside of Workday. Since this is a brand new process, you will have the ability to keep the same business process routing/approval flow that you may currently using
How do I configure this?
To begin setting this up: