New in 2023 R1 – Edit and Approve Time Report
As a part of 2023 R1 update, Workday has delivered a new report that consolidates the time entry & approval process, as well as enhances the user experience for managers & timekeepers.
These users can now audit, modify, and approve time to be processed by payroll all in a single report.
Edit & Approve Time
This new Workday report shows a single page of workers, organizations, or your own team with helpful visual indicators that guide the user in the time process.
For instance, if someone on your team hasn't entered any hours for the week, then they will appear at the top of the report with a bold indicator:

From here, the user can choose to either notify the worker or enter time for the worker themselves. An incredibly useful feature of this report is that we can actually enter time for workers directly within the report, or modify existing time blocks.
This report truly is a one-stop shop for all things time tracking.
Overall, this report is consolidated enough to speed up the time auditing process before payroll is run. It also allows managers to have an intuitive view of how their team has worked within a selected time week.
We can see items such as:
Bottom line, this will help increase engagement for the time approval process with a quick and easy report view: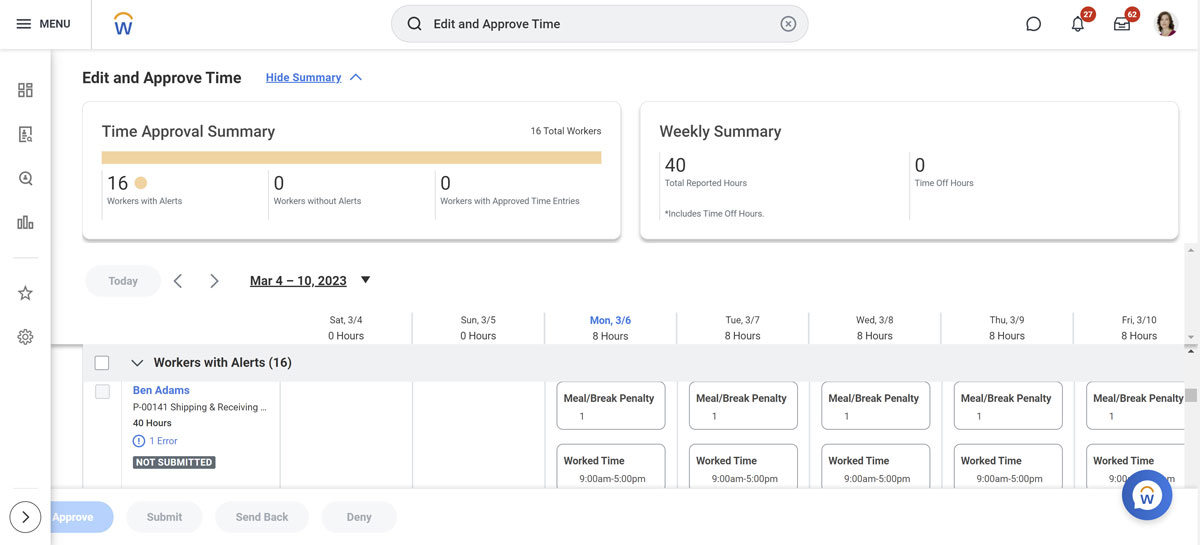 Additional Considerations
If the feature is not enabled, no worries – you won't notice any differences in your system other than that this helpful report is missing!
Another thing to note is that this feature currently does not support reviewing or submitting time by period. This is only by time week. Additionally, managers and timekeepers can only view and approve one week at a time, not multiple weeks that span a pay period.